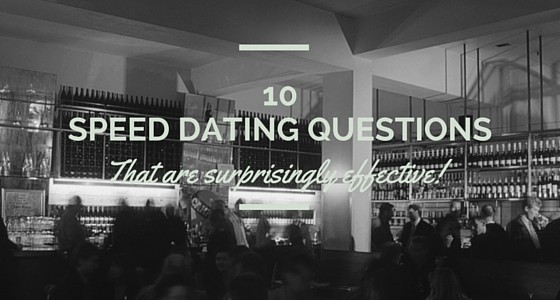 10 Speed Dating Questions That Are Surprisingly Effective
Let's face it, dating is not always easy nor is it always fun. It's easy to fall into a dating rut, especially if you're trying to find someone special. Bar hopping to meet people on the weekend can be exhausting and online dating can be too impersonal, not to mention scary at times. That's where speed dating comes in… but it's knowing what speed dating questions to ask that is the problem!

Not only does speed dating allow singles the luxury of meeting new people, but it also saves you from spending too much time with someone that you just aren't that interested in. So you won't have to sit for an hour in an expensive restaurant on a boring date that your friend convinced you to go out with. Instead, you get to meet multiple different available prospects in one night, chat, get to know them a little better, and if you're lucky, book another date with someone that really catches your attention in the best kind of way.
Dating can be nerve-racking and the very idea of matchmaking can make some of us instantly start sweating, but there's no need to be nervous at all. Speed dating can be a lot of fun, especially with the help of these 10 effective speed dating questions to ensure you have the best experience and bring your A-game.
10 Effective Speed Dating Questions
1. What are your hobbies?
A person's hobbies can say a lot about their personality. Whether they're outdoorsy and love adventure or prefer to stay at home reading a book kind of a person, you will know if you can see yourself doing certain things together or not. You never know, you may find you have a lot in common.
2. What do you do for a living?
This may be one of the oldest questions in the book, but it's also one of the easiest ways to learn more about someone. What a person spends their time doing, even if it is for money, says a lot about them. A few harmless general information questions will tell you some basic background without getting too complicated just yet.
3. What is your idea of a perfect vacation?
This question may help reveal personality traits. Maybe he's romantic, maybe she's adventurous, or maybe they prefer to have a stay-cation where they don't leave the house for a week; it's all about seeing yourself doing things together and having a good time.
4. What is the craziest thing you would do for love?
Not only will this question more than likely let you know what kind of relationship partner they may be, it will also give you a sneak peek at how the two of you would be as a couple. Even better, in a speed dating scenario, you can be as casual as you can about these questions and topics, so you both can relax and feel comfortable.
5. How often do you do your laundry?
Finding out how clean someone is definitely isn't one of the first questions we think about asking, and it might take them back for a moment, but it's really only a straightforward question with a simple answer. Actually, speed dating questions like this can help find out about their cleaning habits, especially when it comes to singling out messy men.
6. What is your favorite guilty pleasure food?
Having common taste buds with someone you're dating is not exactly the most important thing on the list, but it does help. Sometimes old-school questions can be nice to keep things light and funny while taking some of the pressure of trying to get to know each other.
7. Cats or dogs?
Some are cat people, and some are dog people. We all know the drill on this one. However, this question will help you find common ground and just get to know each other, whichever your preference is. Perhaps she's obsessed with her 7 cats and you're allergic… wouldn't you rather know now?
8. Do you know who TotalBiscuit is?
If you want to find a gamer in disguise, this is the ultimate question. There are multiple reasons for this, but first let's cover the basics: TotalBiscuit is a gamer with his own channel he uses to review video games. This question is a great speed dating choice because it will help you seek out your fellow gamers (sometimes they can be tricky to spot) with a simple, quick question, alternatively, if you want to avoid them like the plague it's equally effective!
9. Do you snore?
Not only will this help break the ice, but you may also learn one of those little-known facts about someone. You'll find out the easy way if they snore really loud all night long or maybe even some other odd habits they have. Plus, I doubt they'll ever forget that one time a stranger asked about their snoring habits.
10. If you had to give a makeover to Charlie Chaplin, what would you change?
This question is definitely more on the silly side, but the giggles that follow can make both of you feel a little more comfortable with each other, enhancing the speed dating experience. It will also help you to gauge how well you and this date could get along intellectually, as a hypothetical question involved thinking on your toes and seeing how the other person may respond.
Wrapping Up…
With speed dating, it can be tempting to fall head over heels based on looks alone, but the person whose answers you remember the most, even if it's not the person you expected to end up with, definitely deserves some serious consideration. You may be packing a date into merely minutes, and you will be nervous, but you might as well just enjoy yourself and enjoy the ride. Just go with the flow and see where it takes you. Maybe you won't find your soulmate, maybe you will; there's really only one way to find out.
Go ahead! Dress up, look your best, and remember some of these helpful speed dating questions to fully enjoy your speed dating experience. You never know, maybe you'll find someone amazing.
If you happen to be in London then why not head on over to my post about speed dating hosts Date In A Dash here or directly to their site www.dateinadash.com to sign up to put these questions to the test!
Happy Speed Dating,
The Frequent Dater