What Is A Dating Coach? Interview With James Preece
The beauty of starting a blog is the enormous potential for networking and building relationships with real experts in their field. Whether a blogger or a renowned dating coach, I've been genuinely surprised at the friendliness of the whole community in which I now find myself a part of.
This particular interview is with someone who has an absolutely incredible resume in the world of dating and I'm honoured to have the opportunity, not only to guest post on his site, but also to get the opportunity to interview him too.
Without further ado, I'd like to introduce to you published author and dating guru, James Preece!
Tell me a little about yourself, the real you that is, who are you outside of the dating coach world?
I'm married with a wonderful 2-year-old son. He's the biggest flirt I've ever met and will definitely grow up to be my biggest competition as a dating coach! I enjoy self-improvement, keeping fit and healthy, and seeing new places.
What is a dating coach and how long have you been doing it?
I'm been working as a dating coach for over a decade now and it's absolutely the best job in the world! What I do is work with single professionals who are finding it difficult to meet suitable partners. It can be so overwhelming and frustrating that they come to me for some guidance and direction. I'm also employed by dating sites as a consultant and by brands to act as a relationship expert for different projects.
When did you decide to become a dating coach and what triggered your decision?
Many years ago I used to be an actor. I was also single at the time and used to help out hosting singles events. It was a great way to make extra money and get dates myself. I found I loved bringing people together and watching them connect. However, before long I met my wife and I decided to teach others the same strategies that I knew had worked for me. There aren't many reputable male dating coaches out there – especially married ones – so I'm quite unique!
Does the coaching process really work?
Yes absolutely – but it's a two-way thing. There's no point paying me for coaching and then not taking any action. I can only show the way rather than force someone to travel the path. Luckily, almost everyone that comes to me has reached that point where they realise they need a helping hand and will do everything I say to get their goal.
What do you find most enjoyable about being a dating coach?
Every day is different and I love to meet new people. There's nothing more rewarding than seeing my clients make changes in their lives and get big results from them. If I'm not coaching I'm running events or writing content for dating sites or brands.
Are there any downsides to what you do?
It can be very draining at times. I have to be available to my clients as much as possible as they might need before, after, and even during dates. So I work long hours and weekends. Having said that I'm always extremely grateful to be so busy as I'd be worried if things went suddenly quiet!
Can you share any success stories with the readers?
I've got a new favourite success story which is hot off the press! I bumped into an old client a few days ago at an awards ceremony. She said I'd give her advice about dating which she's followed very seriously….. so much so she was now pregnant! I love it when I hear things like this as it proves my job is worthwhile.
Do you have anything exciting planned this year that you'd like to share?
I'm about to start work on a new Youtube channel and I'm also putting together an online dating course. Oh and I'm finally setting up some dating seminars too, which is something I've been requested to do for quite a while.
Just to wrap up for a laugh, what 3 things would you take on a desert island and why?
I think my first choice would be my wife. She's watched so many Bear Grylls shows that I know she's keeping us both alive. Secondly, a decent pillow as I have trouble sleeping even in a normal bed. Finally, I'd have to choose the Tardis so I can escape anywhere I wanted, as and when necessary. I get bored easily!
James Preece's Bio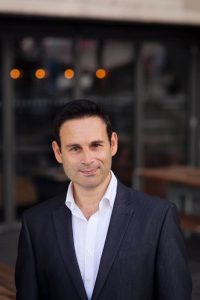 As the UK's leading Dating Expert and Dating Coach he is a consultant for many dating sites and is involved in a wide variety of different areas, such as personal dating coaching, Online Dating, speed dating, and matchmaking.
He is a very experienced Relationship expert and has helped tens of thousands of men and women find love, build confidence and improve their relationships over the last decade. He is a regularly featured expert in the top UK and international media: such as the Independent, Cosmopolitan, OK Magazine, Men's Health, Match.com, The Sun, and Ann Summers amongst many more. He is also a regular consultant for many dating companies.
He is often hired as an expert for PR work for companies including Disney, Head and Shoulders, Lastminute.com,  Icelolly, and Blu E-cigarettes.
He has advised for various television and radio shows including the Online Dating episode of "You've Been Scammed" for BBC One as well as Talk Radio, Fubar Radio, and ITV News.
Finally from me…
I'd just like to take this opportunity to thank James for his time on this, we've been discussing it for what seems like an age and it's been a pleasure to work together.
Don't forget that you can grab James's book from Amazon and it's a really great read!
Happy dating,
The Frequent Dater