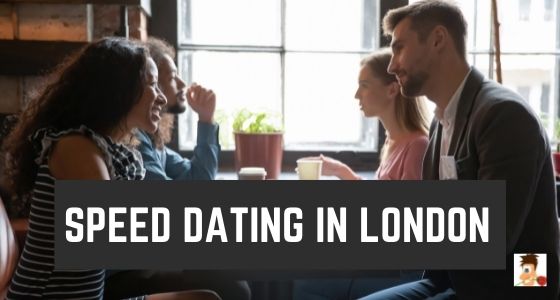 Speed Dating London – DateinaDash.com
Speed dating is still a relatively new concept and it's not something I've ever tried before. So, when I noticed @dateinadash started following me on Twitter I thought it would be a great chance to find out more about it. I followed back and decided to drop them a message asking about an interview and they kindly obliged! Here's the result…

What is speed dating and how does it work?
Speed Dating is an organized event where men and women meet each other in short mini-dates lasting anything between 3-5 minutes. It was originally conceived in 1998 in America as a way for Jewish singles to meet and marry. When guests arrive at an event they are provided with a name tag, scorecard, and pen which they use to mark any potential suitors during the event. Once the event is over we collate the matches and e-mail the results the following day. If there is a match guests are put in contact with that person to arrange a date. At an average Speed Dating event with DateinaDash, there are about 40 people, 20 dates.
How many events have you held to date and how many speed daters have attended?
We held our first event in November 2011 in South West London, to date we have held just over 1,000 events and have nearly 18,000 people registered on our website.
Do you have any success stories that you'd like to share?
We know of lots of people who have found long-term relationships through our events and I'm sure there must be a marriage or two! We heard from a couple last month who met at one of our events in Clapham in 2015 and they recently had a child together – so it really does work. Lots of people hook up through our events, in fact, there have been over 10,000 matches since we launched and we've seen many people get together on the night!
What top tips would you give to someone wanting to try speed dating for the first time?
I would definitely say be open-minded to the whole thing, I often find that people come with too many expectations and this can often lead to disappointment. It's good to bring a friend along for moral support and well worth preparing a few things to ask, try and avoid asking boring mundane questions about what they do for a living, and if they've been 'Speed Dating' before it's not a job interview!
Is there a speed dating etiquette that should be followed?
Generally speaking, the people that attend our events are friendly sociable people. Occasionally there will be one or two individuals who have too much to drink or are inappropriate in their conversation or behavior. The only thing we ask is that people arrive on time and follow the instructions given by the host.
Is there a suggested dress code?
We don't enforce a dress code but some venues require smart attire particularly our weekend ones like the Kensington Roof Gardens and Mahiki. We suggest that people do make an effort as you're trying to impress right? For girls, it's dresses and heels and for gents a nice pair of jeans, a well-ironed shirt and shoes.
What's the funniest thing you've seen at a speed dating event?
Not sure where to begin…I've literally seen it all! However, one of the strangest moments that has ever happened was at one of my very first nights in 2012 when a guy burst through the door to the event half way through and proclaimed he wanted his girlfriend back in front of everyone. It actually turns out he had split from her a week prior (on a break) and she had come along and checked herself into the event on Facebook, he had seen this and driven to the event to confront her! I've seen guys fall over chairs, spill drinks over girls and last month a guy's coat got caught on fire as he left it dangling on the back of a hair next to a heater, we were literally seconds from sending the pub up into smoke!
Is there anything else you'd like to add?
Speed Dating is a great way to meet lots of people in one fun night out and we recommend that everyone should give it a go! Ticket prices range from £10-25 and if you book early you can always get a better deal through our discounted rates. Check us out on www.dateinadash.com and we hope to see you at an event very soon! Plus, if you don't meet anyone you would like to see again you can attend another event for absolutely FREE through our 'No Match Guarantee'.
Happy Speed Dating,
The Frequent Dater