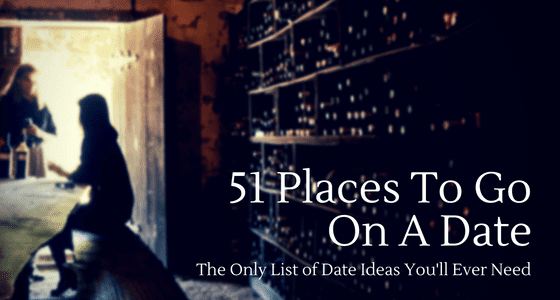 Places To Go On A Date: The Only 51 Date Ideas You'll Ever Need
If you're a frequent reader of my blog then you'll know that for most of my date ideas, or the earlier ones at least, I tend to lean towards being more fun than formal. You can check out my other posts for the best places to go on a date (for the first few dates) by using any of the links below. There you'll find more detail on some of the date ideas listed further down.
My Definitive Guide To First Dates
10 Second Date Ideas That Can't Fail
Third Date Ideas To Seal The Deal
The idea around keeping things fun is simple, there's less pressure on you if you're prancing around ice skating, or making a fool of yourself bowling, than there is sat opposite a stranger in silence over dinner or an awkward drink.
Places To Go On A Date Indoors
The weather isn't always going to be kind to you so it's good to have a few of these up your sleeve. If you ever plan a walk in the park and the heavens begin to open then your date will no doubt appreciate the fact that you have a backup!
1) Bowling
I love bowling as a date idea, it's simple, fun and sure to generate laughs along the way. There's always the option to hang around for a drink or two if things are going particularly well too. 😉
2) Sports Game (Basketball, Ice Hockey, etc.)
It's important to do your homework as to whether she's into sports before deciding on this as a suitable date idea. Listed in both indoor and outdoor due to the many sports around it's a great idea to pass the time watching something you both enjoy and there is plenty of opportunity to get to know each other too.
3) Cinema
I can't stress how much I loathe this as a first or second date idea. It's really difficult to strike up conversation whilst watching a film at the cinema. Save this for when you know each other a little more or perhaps even when you're exclusive (find out when the exclusivity talk should happen here).
4) See a play at the Theater
Similar to the cinema in that it's not advisable to do this early on and best saved for later on in your dating journey.
5) Meet for Coffee
A very common date idea choice, a simple coffee meet-up works great for all but the first couple of dates really. Perfect for when you have a short amount of time available but still can't wait to see each other.
6) Cocktail Making
Drinking and having fun whilst doing it… what's not to love? Who doesn't want to try their hand at being Tom Cruise (click here if this reference is over your head) for a couple of hours? Some classes are a little more straight-laced than others so shop around and this would make a perfect first date idea.
7) Wine Tasting
Less fun than cocktail making but great if you're into your wine, or more importantly, if she is. I probably wouldn't use this for a first date but from second date onwards? Absolutely.
8) Take A Dance Class Together
You could either do this for a laugh if you're not a dancer at all or if you both have an interest in dancing then it could be great to try a new style together. I'd hold off a few dates before this one though, it could be awkward so get to know each other a little first.
9) Dinner At A Restaurant
I don't recommend this as a first or second date, however, if your initial date idea has gone well and you're getting on then it's ok to suggest moving on to eat. I just wouldn't plan it as date one because you don't want awkward silences that can ruin things before they even get going. You won't be at your best and neither will she so have some fun first.
10) Meet for Drinks
Similar to the dinner date idea, drinks can become awkward if there's a lull in the conversation so either save it for the third date onwards or as something to move onto after your main date activity is over.
11) Breakfast
Are you both morning people? Then why not head out for breakfast instead of the traditional dinner? Save it for date three onwards or suggest it after the first night you sleep together… It's a nice way to end a nice night together and far more chivalrous than darting out the door in the morning.
12) Lunch
If you work near each other then nothing says I can't see you enough than meeting up for lunch!
13) Rock Climbing (I'd stick to an indoor centre unless you happen to know what your're doing!
For the more active amongst you, rock climbing is both fun and an amazing workout. If you're not use to it then be prepared for very sore forearms afterwards! Ideally you'll both be physically fit for this one.
14) Indoor Skydiving
This is so much fun and can be done for any date, just be sure that she'll also get involved first. She won't enjoy it is there's a medical reason she can't join in too! Click here to find a centre near you.
15) Museum
If you want to take more a leisurely stroll on your date then a museum is the way to go. With so many to choose from and the fact they're free to enter (in most cases) then not only is it thoughtful but also super cheap!
16) Art Gallery
Whilst museums can be enjoyed by all, Art is a little more difficult to judge. Definitely not a place to go on a date unless you're confident that she like art. Not everyone appreciates it, so don't risk it if you're unsure.
17) Shopping
I'm yet to meet a woman that doesn't like shopping yet so this is a safe bet. However, it's definitely not an early date idea, you need to be pretty comfortable with each other and you need to be prepared for a few hours standing around!
18) Indoor Skiing
Very active and great fun if it's something you enjoy doing. Introducing her to new experiences is only a good thing, it will help if you know what you're doing already of course!
19) Ice Skating
This is a great date idea whether you're into it or not. It's fun and you're bound sure to fall over which you'll both no doubt have many laughs about!
20) Cook Dinner At Your Place
Quite intimate and you'll need to build some trust to get her to yours in the first place but it's a great way to show her a little insight into your life by being in your home and also that you can cook! Have a little background music on and light a candle to build the right atmosphere.
21) Go to the Opera
This probably comes down to personal interests as it's not to everyone's taste. If you know she'll enjoy it then go for it, just not for an early date… number 3 onwards guys.
22) Volunteer Together
This one she'll find cute I guarantee! There are so many charities around these days that helping out somewhere should be pretty easy to arrange so you can tailor it to her likes and hobbies. An animal shelter is sure to be a hit!
23) Take A Fitness Class Together
Exercise is great for releasing endorphins and so doing it together can build a good bond pretty quickly. Leave it until a little later in your dating journey and who knows what might happen in the changing rooms afterwards ;).
24) Attend A Book Reading
If you know she's into literature and reads frequently then she might melt a little inside when you surprise her with this. It's thoughtful and even if you don't really enjoy it, she'll appreciate the gesture for sure.
25) Comedy Night
Another very fun date idea is taking the time to see a stand up comedian. I wouldn't advise heckling though as chances are she think you're a jerk and it's almost certain that the comedian will make you feel pretty stupid.
26) Go to see live music (gig)
Choose a smaller, more intimate venue for a more romantic date than a stadium tour. Finding cool lesser-known bands or artists is all part of the fun so try something new.
27) Visit an Aquarium
There are so many sea life centres around that you're never far away from one. A great place to go on a date when the weather isn't great and you can't get out to the zoo. Recommended for a first or second date.
28) Go to the Beach
Simple and very inexpensive but you'll need to be conscious that she may not be comfortable enough to let you see her in swimwear. If you're unsure of whether she's be ok then hold off for a later date.
29) Take Part in a Track Day
The perfect date for petrolheads! They don't usually come cheap but they're brilliant for thrill-seekers with a passion for cars.
30) Take A Brewery Tour
This might not scream fun but if you like your beer/ale then it can be fun to sample as you go around and by the time you leave you'll no doubt in high spirits and pretty relaxed to carry on the date elsewhere.
31) Take A DJ Class
Having a love for music is one thing but have you ever just wished you could be a DJ? Why not take a class with her and get to know each other's taste in music as well as doing something you've always wanted to do.
32) Hit the Club Together
Taking the music theme one step further and once you're comfortable enough to do so, head out to the club together. Some of the best nights out I've had have been with dates/girlfriends in the club. Get into the R&B groove and get up close and personal with each other on the dance floor.
33) Take a Mini Road Trip
Once the early conversations are out of the way in the first few dates, why not hit the road, either for the weekend or for the day, and soak up the sights of the country? Be sure to plan the route at least and perhaps a stop or two of interest.
34) Take A Pottery Class
Something a little calmer for the slower-paced and more artistic ones amongst you. A pottery class should be fairly easy to find but it's likely that conversation will be limited so leave this one until at least date three.
35) Go to a Spa
There's something about being in a spa that is a little sexy. Walking around in your ropes and relaxing in warm pools can sometimes be the perfect recipe for sexual tension. Leave this one until later on and who knows what you might get up to ;).
Places To Go On A Date Outdoors
36) Drive-in Movie
So movies in a cinema is a no no because of the whole speaking and ruining everyone else's experience thing, the beauty of the drive-in is that this issue no longer exists! If you followed my guide to first dates then you'll know about her favorite movies, so what are you waiting for dude?
37) Picnic
Obviously this is weather dependent, but a picnic is a great second date idea if you felt the conversation came very easily on your first date. Remember to ask her about any food allergies before you prepare any food and make sure you choose a nice backdrop for this date.
38) Stroll in the Park
Sure, you could sit inside a coffee shop and make conversation but where's your sense of adventure? Grab a coffee each and then go and see the great outdoors. If there's no park nearby then just take a walk around the neighborhood, you'll still see things or people that will provoke more conversation that you'd get by sat indoors the whole time.
39) Abseiling
An interesting idea and certainly not for everyone but if she's a bit of a daredevil and you're up for the challenge then get out and do it!
40) Bungee Jumping
Another one for those that like to get your hearts racing, the exhilaration you'll both feel during this is bound sure to bring you closer… probably not a great first date though! 🙂
41) Skydiving
Whilst a great idea, this is something she might take a bit of persuading to take part in. Why not do the jump for her favorite charity to help win her around? A once in a lifetime activity and probably best saved for much much later in your dating journey.
42) Zoo
Who doesn't love the zoo?! They're awesome and bring out the child in you. With a huge selection of animals to see and so many people to watch, topics of conversation will come easily and flow naturally. The relaxed atmosphere at the zoo will surely break down any barriers usually in place on a first date. Have some fun and don't be afraid to act the clown should the opportunity arise.
43) Theme Park
At the other end of the spectrum when compared to the quiet and tranquil museum, the amusement park is all wild rides and loud screams. This really is the perfect setting for having fun and engaging in conversation as you walk around the park. Try to avoid making your date go on fast rides if she doesn't seem too sure and don't leave her alone so you can go on it yourself.
44) Bike Ride
It's always a good idea to be active on a date if you can. I mean, what can be better than doing a little light exercise with someone you like? My advice here is to try and cycle around a nice park rather than through a built up area, the scenery makes all the difference.
45) Be A Tourist
Now, I don't me dress up so you stand out like a sore thumb… however, it can be great to explore your city as a tourist. Take the open bus tours and walk the tourist trails to find out something new about your home town. You'll have plenty to talk about as you walk around and so conversation should flow well.
46) Go Rowing
Ever seen The Notebook..? Yeah, do that. It's ridiculously romantic and she'll be so into you for doing it if you get the timing right. I wouldn't do this for an early date but when you have already gotten to know each other and are a little more intimate.
47) Go Kayaking
This is clearly location dependant but another fantastic idea for a exhilarating experience to spend together.
48) Go Running
Find a nice park with a view and go for a nice leisurely run. Just remember you're on a date and don't go racing off!
49) Stargazing
Add this to the romantic list. Find a nice clear but warm night and spend time just taking in the beautiful sky in all its glory. A time for intimate conversations and getting to know each other under the perfect setting.
50) Explore a Winery/Vineyard
Similar to wine tasting but with the added benefit of seeing where the whole process starts. Great for wine lovers and drinkers alike!
51) Go Birdwatching
Probably a bit hit and miss and certainly not everyone's bag but it's a quiet a relaxing way to spend time together. You can always sack of the bird watching and just get to know each other better.
There you have it, the only list of places to go on a date that you're ever likely to need. If you disagree then let me know below and I'll add any good ones I've missed.
Happy Dating,
The Frequent Dater