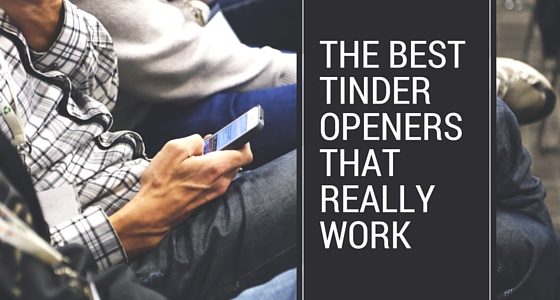 The 4 Best Tinder Openers That Really Work
Writing the best Tinder openers can take a long time to learn. Luckily I'm about to save you that time and you'll be knocking them out in no time at all!
In case you hadn't guessed already, Tinder is the simplest and most popular "dating" app on the market, and best of all it's pretty much completely free.
There are certain things that you can do in order to improve your chances of success though as there are some stiff competition gents! First of all, if you haven't already, then check out my Ultimate Guide To Tinder and How to Perfect Your Tinder Profile as this is where I cover how to complete your profile to really stand out from the crowd.
Once you've done that you'll have matches coming in regularly but what do you say to them? Well, fear not my friend, I've teamed up with a fellow dating blogger, Hannah Gabris, to bring you her experience and tell us exactly what is required to write the best Tinder openers, and trust me, it works!
The Best Tinder Openers
Tinder is an interesting beast. You post a few pics, and a few words, and then get to swiping. Once those matches start it's important to have an opener that's going to get attention. Why? Because with a ton of matches it's good to stand apart. Your opener is a chance to affirm that my right swipe was the right choice. "Hey", "hi", "what's up?" — those just don't work for me. I don't need to be completely blown away by your Hemingway-esque prose but I'd better smile, laugh, or think. Here are four openers that got to me instantly as well as tips for how to pull each one-off. Don't forget to read to the end for the three things that NEVER work as openers!
Dancing On The Line But Not Quite Stalking
A few months ago I was traveling for work and looking to meet up with someone for a drink and Bo seemed down to earth and fun from his profile. About twenty minutes after we matched he sent me the following:
"So, if we have dinner will you be offended if I don't say you?"
Huh? I was lost. Sent back, "That went right over my head. Which is kind of cool." And he retorted that my name means "grace". Cute. It wasn't the best and I didn't get it at first but I thought it was cool that he did something different — found out the meaning of my name and used it to open. Bo and I had a few beers and zero chemistry but when he comes to NYC we'll definitely have a drink or two — a friendship in the making.
Why Does It Work?
You've drawn me in by taking the time to both notices something about me AND bring it into the conversation. I like that.
How To Pull It Off
Find something in her picture and profile and use that to open. It can be as simple as saying that your first crush shared her name, ragging on her fave team, or asking her what kind of beer/cocktail/wine she is drinking in her pic. If her birthday is included in her profile, look up her sign and say how you should test out whether or not your star signs are compatible. Engage, engage, engage.
The Cringe/Laugh Combo
Believe it or not, girls LOVE a sense of humor and a guy who isn't afraid to laugh at himself. This is why we don't swoon over Christian Grey as much as you think we would. Sure, he does some hot stuff but dude needs to take himself less seriously. I love to laugh and awkward humor usually seals the deal.
I had a great relationship with a Tinder Match until he moved for his job and it started with a horrible pickup line. Yes. A pick-up line. There is something so awkward, while at the same time hysterically funny, about pick-up lines. His was: I wish I had a library card because I want to check you out. Right?! CRINGE! But also funny.
Why Does it Work?
We all love these lines but obviously don't use them in public. There's something non-threatening and super funny about getting them as a Tinder opener that says to me, "This guy is FUN." And fun is a lot less pressure than intense and beats boring any day of the week.
How To Pull It Off
There's a fine line between acceptable and unacceptable pickup lines. Avoid anything that comes across as overtly sexual a la "I might not go down in history but I'll go down on you," and anything mushy, "Do you have a map? Because I'm lost in your eyes." Those are both cringey in ways that make me want to take a shower. Focus on funny. I'm still waiting for a guy to open with this one: Did you sit on a pile of sugar? 'Cause you have a sweet ass.
Warning: That one might not work on everyone but it would work on me! 🙂
Talk Like an Egyptian
Emojis are fun. And Derrick knew that when he used them as his opener and for a considerable part of our first chat. He opened with a wave, I waved him back and he asked me out for a cocktail using only emojis. A bold move that paid off for both of us. It's creative and you'd be amazed at the way you can combine different emojis to communicate way more than just palette, beer, clock… whatever that means.
Why Does it Work?
It's creative. Like a guy who draws on a cocktail napkin at a bar and hands it to you instead of just doing the usual, "May I buy you a drink?" Tinder is a new place to set yourself apart and with everyone on there you've got to have a good opener. Just avoid the eggplant and peach to start, 'kay?
How To Pull It Off
Start simple and pay attention — if she only responds in words don't continue to send emojis unless you want to get unmatched. Waves are fun, as are an emoji of something and then a question mark (beer? wine?). If she emojis you back have fun with it but switch to words before too long.
Read the fantastic "Love Me Tinder" now!
Knock Knock
I will never NOT answer "who's there" if someone starts a knock-knock joke. So get a few in your arsenal. Also quick jokes like, "Why did the chicken cross the road?" with a clever answer will work just as well. I often use my favorite joke of the moment to open a Tinder conversation. I do it for two reasons: first, it's interesting. Second, a guy that unmatches me or critiques it as an opener is definitely someone I don't want to go out with.
Why Does it Work?
This is another one that is low-pressure and brings both people into a little bit of fun while also giving you something to laugh about when you meet. And like the bad pick-up lines, there is something really nice about seeing that someone has a sense of humor. It also allows for interaction in a fun way and getting on to what's most important: setting up a date. I am not one to waste time talking over text/messenger before a first date so this is a fun way to warm up to, "Now that we've laughed, let's do it in person."
How to Pull It Off
Find some funny knock-knock or quick jokes online and test them on your friends and co-workers. You want ones that get a laugh, or a laugh and an eye roll. Like with the pickup lines don't go with anything sexual — just have fun with it.
The Three Tinder Openers That Never Work
Let me do you all a favor and tell you openers that just don't do it for me and will either get no response or an unmatch.
Asking Me My Height/Weight
This is not an AOL chat room so don't you dare send a/s/l or anything even remotely close to that. I've got my face and body shot on there so you've got a good idea of how I look and found it suitable to swipe right. If you're asking these kinds of questions I imagine you want to move a little faster than I do. Or you're only looking for a hook-up. I'll save you the time and unmatch you.
"Hey."
Yawn! What a snooze fest. This is why I never swipe right on guys who put, "Ask me anything!" or "I never know what to say here," for their profile text. You gotta be able to do better than that. How are you going to handle talking to me when we're face-to-face?
Anything Remotely Creepy
I can't really define it but messages that are creepy get me to unmatch. So starting, like one guy did, by saying he thought I was beautiful and wanted to watch me sleep? Nope! Also being too pushy… like the guy who INSISTED on picking me up at my building. No… I don't want you to know where I live, thanks.
What's your best Tinder opener? If you don't have one, which of these fits your style? And, please tell me the worst one you've gotten. Let's continue the conversation in the comments or on social media!
You can read all about Hannah's adventures over on her blog and also don't forget to follow us both on Twitter @FrequentDater and @hannah_gabris.
I hope you enjoyed reading about the best tinder openers, if you have any good openers that you'd like to share then please drop them in the comments below.
Happy Tindering,
The Frequent Dater