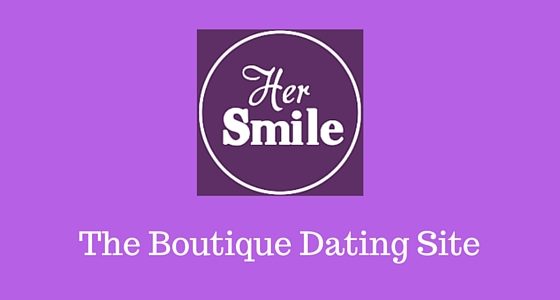 HerSmile Boutique Dating Site Interview
I recently stumbled across an innovative new dating site that has thrown the rule book out of the window when it comes to creating a dating site. HerSmile is bound to soar in popularity very soon after public release and so I'd advise getting in early as they have 1000 complimentary accounts on offer that will be free for life!
Intrigued with the strapline "The only relationship site to assure the intention behind an introduction." I decided to dig a little deeper and got in touch with them via Twitter (@HerSmileUK) to ask more about it and I was pleased that they agreed to answer a few questions, the interview follows below…

Who founded HerSmile and how long has it taken to get this far?
Cosmo Currey is the founder and owner of HerSmile. He spent 3 years in Moscow studying Russian, before moving onto Tokyo to do a postgraduate in Japanese. Finishing his studies at 21, Cosmo knew exactly what he wanted to do. With only an idea he needed money. Putting aside one-third of his income he saved for the next 7 years. At 28 having lived abroad for 10 years and with a variety of languages under his belt, he came home. After three years of studying the online dating industry and with his knowledge of the barriers people face when meeting online he founded www.HerSmile.com
Why did you create HerSmile?
Online dating is huge. The industry is worth over 2 billion dollars, growing at 5% each year they expect by 2040 70% of us will have met our partners online. Yet, for many users, the results are no better than a lottery. Profiles are can be misleading and intentionally deceptive. With all the chaos of a cattle market; I felt there had to be a better way.
In 2011 I started to research the market. Across all demographics, I asked women what they didn't like about online dating. What wasn't working for them? I found three barriers kept recurring: Safety, information and intention. HerSmile was created as a solution to these barriers.
1) Women don't feel safe dating online. They are harassed aggressively or as over half have reported they're subjected to sexually explicit messages.
2) Information on online dating is boring! You're asked to write reams of text to sum up your great sense of humour… if there is a good profile it's invariably been copied and pasted. It can be both deceptive and utterly uninspiring.
3) The third and most recurring was intention. Messages are sent out left, right and centre so when you do hear from someone you have no idea they're genuinely interested in you or if you were just the first to 'take the bait!'
For men it was straightforward. They felt their time and money was being wasted. They were being misled. HerSmile isn't a clever algorithm to match people based on their taste in Burgundy wines nor have we tried to gamify love through extensive psycho-metrics. We simply looked at the problems and created the solution.
How does HerSmile set itself apart from other dating sites?
Dedicated to refreshingly honest profiles it took two years to develop our award-nominated software that is the first and only introductory site to assure the intention behind an introduction.
How do you ensure genuine profiles?
Our research showed that one of the hardest parts of online dating is writing about yourself. Yet realistic profiling is crucial for a great introduction. So we've come up with a way that showcases you honestly without the need for a creative writing degree and without the stress of selling yourself.
Inspiring to write, and authentic to read in 14 fun yet thought-provoking questions we'll create your profile for you. By removing the 'sell yourself' mentality often associated with online dating we can ensure refreshingly honest profiles.
What are your key features?
We've integrated the best aspects of social media: Facebook (mutual friends), YouTube (incorporation of videos), Twitter (Keyword search) and Instagram (Character Gallery).
Is there a charge for your customers, if so how much?
On HerSmile, women pay a monthly subscription (£12) letting them initiate contact with a man at any time, receive messages from men and review the possibility of contact. Men, who have no subscription, simply buy introductions/credits (£4 with a minimum purchase 3).
He confirms his interest in a woman is genuine by using one credit to send his first, introductory message. Her 'Smile of Approval' lets him know the interest is mutual and he can contact her further. If she doesn't reply, we'll return his credit for him to use again in future introductions.
How does this process ensure genuine profiles?
This way she's never bombarded with unwanted messages and because he invests in an introduction she's assured of his commitment – specifically to her. She's not one of many, she is one of one. From a safe and non-pressured position, she can decide where it goes and since men only hear from women who reciprocate their interest he wastes no time and money.
This unique process removes the negative behaviour patterns that can make online dating a disappointing experience. Men are discouraged from 'playing the numbers game', while women are encouraged not to 'sit on the fence'.
Throughout nature, females select males with great care, while males pursue partnership opportunities. HerSmile is the first introductory site designed to reflect these inherited instincts; men pay per opportunity (introduction) and women, for a fixed fee, screen an unlimited number of suitors.
By operating a payment structure reflective of the natural biological drive we create an environment where love is more like evolution than random selection and by protecting women online and ensuring men aren't misled we've found we can considerably reduce the time taken for both sexes to find a suitable partner.
When do you officially launch and what platforms will you be on?
We launch on the 15th April and will be available on Android and Apple. If you prefer desktop viewing our website links directly to the apps.
Is there a way for people to get involved in your launch?
Absolutely! As part of our launch we're offering 1000 complimentary accounts on HerSmile. No catch, no pay later. Simply free. To receive a complimentary account create a profile on HerSmile and email Founders Account to Ask@HerSmile.com
The more people that know about us the better our introductions can be. So invite your friends, contacts and followers so they can also receive a free account.
Get yourself over to this new, award-nominated dating site now for your free account. It's not often that you get an opportunity to join a fantastic new site free of charge so be quick before it's too late!
Happy online dating,
The Frequent Dater