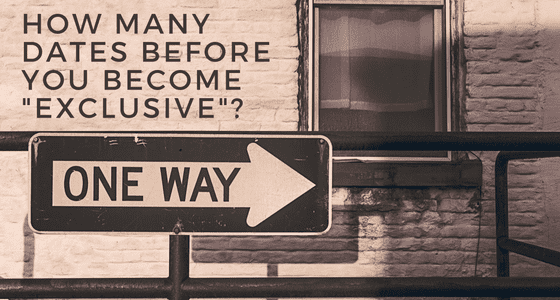 How Many Dates Before Being Exclusive?
I recently wrote a post on how many dates before relationship talks and whilst this is similar, I felt that dating exclusively and being in a relationship are very different things to some people. It's good to know upfront how many dates before exclusive talks should happen. It's sooner than you think.
So… How many dates should you wait before being exclusive?
Things don't have to progress to a relationship for months if it doesn't feel right but the exclusivity should come much much sooner in my opinion. Personally, once I make the decision to go on a third date (don't forget to check out my 10 perfect second date ideas to make sure you get to date 3!) then I've decided that I like her and so pursuing other women is a no-go.
Think about the scenario, you have 6 or 7 dates and continue to date other women, then a conversation comes up where she assumes you've been exclusive for a while and then BAM! She's like "WTF!!! You're a player, blah, blah"
Let's face it, we've all been there. You thought you were being clever but you've come unstuck and now you really like her but she doesn't trust you. Learn from your mistakes and don't be greedy.
Once you're at date three, I'd suggest somewhere towards the end, broaching the subject of exclusivity. It doesn't have to be a serious "there's something I want to talk about", just light-heartedly drop it into the conversation and the rest will come naturally. If you've read the situation well and she feels the same then it should be a pleasant conversation and you can move on – in my experience, women only date one guy at a time anyway and tend to assume that you will do the same. That being said, she'll appreciate you bringing it up and not having to mention it herself.
The exception to the rule…
Now, the third date is what works for me but if you're ready at the end of the second date then go ahead and bring it up then, like I said before, chances are she's not dating anyone else anyway. Be confident in telling her that you like her and you think you get along great, tell her that because of that you don't intend to date other women.
But…
Make sure you don't actually date other women dude! That's not cool. In fact, that's a sure-fire way to get your fingers burnt.
Let me know how you get on in the comments below. Do you ever mention exclusivity or do you just assume that's the deal? How do you know she's not dating other guys if you don't ask?
Happy Dating,
The Frequent Dater